Innovation Pathway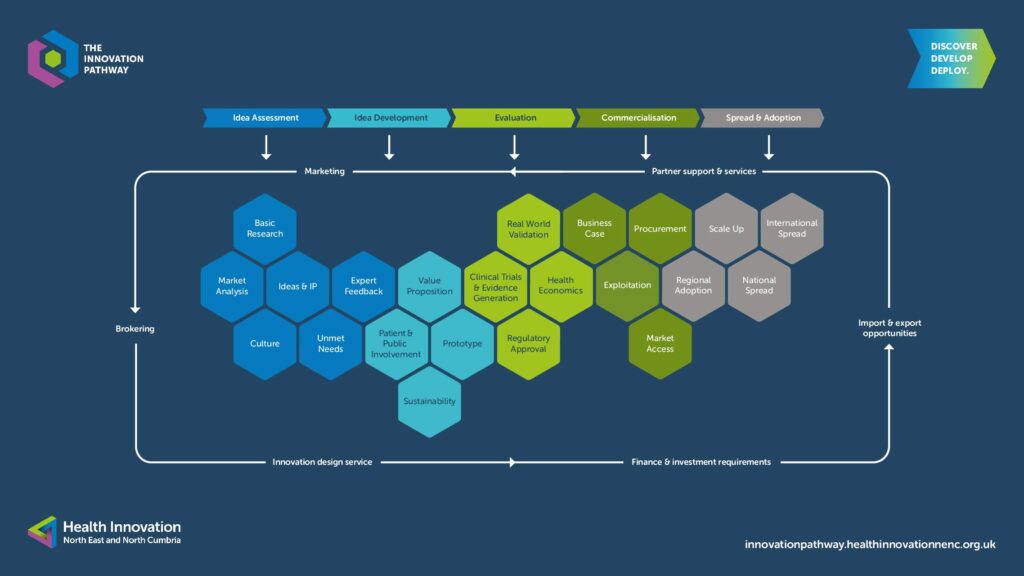 HI NENC has developed The Innovation Pathway, which is our vehicle for articulating the bespoke services that can be provided to NHS organisations and industry.
The Innovation Pathway is central to HI NENC providing a robust structure and process to best support innovation into health and social care.
The Innovation Pathway breaks down the journey of an innovation and is supported at each stage by both internal HI NENC functions and support offered via the wider North East health ecosystem.
We work closely with partners, stakeholders, regional and national networks to ensure that your innovation receives the best and most appropriate support possible. As an organisation, we support innovators, academics, and businesses every step of the way.
Whether an individual or a team, NHS led or a business, innovators from all backgrounds and sectors can access the expertise of HI NENC.
We can support you to drive and champion innovation and adoption, as well as, where appropriate, to grow your business.
The Innovation Pathway enables companies to access NHS expertise to grow their business and we offer bespoke services covering the entire innovation life cycle, from conception of an idea through to its eventual realisation of commercial success and patient benefit.
If you would like to find out more about how HI NENC can support your business and to find out more about the support available via the Innovation Pathway, please email our Pathway Navigators at enquiries@ahsn-nenc.org.uk