Inclisiran
As part of the AHSN Network Lipid Management and Familial Hypercholesterolemia programme, Academic Health Science Networks (AHSNs) are the delivery partners for the deployment of the novel therapy Inclisiran in England.
Inclisiran bridges a gap in the Lipid Management Pathway, and provides a new treatment option for patients who have had a Cardiovascular Disease (CVD) event and are not responding to maximally tolerated statins or medications such as PCSK9 inhibitors, ezetimibe and bempedoic acid.
AHSN NENC is delivering this programme within the North East and North Cumbria.
Background
Inclisiran is an innovative new treatment for people at risk of Cardiovascular Disease, which has been made available to patients more quickly thanks to the first NHS population health agreement between NHS England and NHS Improvement, the AHSN Network and the pharmaceutical company, Novartis.
This three-way collaboration will increase the treatment options available to this patient cohort and is an example of a new method of scaling an approved innovation in a way that accelerates patient access and improves patient outcomes.
Roll out of Inclisiran in primary care
In September 2021, Inclisiran gained NICE approval, recommending the drug for people with high cholesterol who have already had a previous cardiovascular event to reduce their low-density lipoprotein (LDL) cholesterol. The new drug can be given to patients in primary care as a twice-yearly injection.
The AHSN NENC is working closely with clinicians in the region to support them with the introduction of Inclisiran into local lipid management pathways. This will involve providing primary care teams with information, education and training to help teams to prescribe the most appropriate treatment for patients.
As the rollout of new treatments is not usually undertaken on a national scale, there is currently inequitable access across the country to novel treatments. This additional element of the Lipids Management and FH programme will help address inequalities by enabling all eligible patients to easily access the treatment via their GP practice.
Inclisiran trials – demonstrating patient outcomes
Inclisiran, a first-in-class small interfering RNA therapy, received a licence from the European Commission in December 2020 following the results of a robust clinical development programme.
The drug removes harmful LDL cholesterol (LDL-c) from the blood and in three studies across over 3,700 patients is proven to reduce LDL-c by 50% by using RNA interference (RNAi) to boost the liver's ability to remove it from the blood.
High levels of LDL-c suggests that people are more likely to suffer a heart attack or stroke. Sustained lowering of LDL-c has been shown to help prevent the development and progression of Atherosclerotic Cardiovascular Disease (ASCVD), a potentially serious condition. It is caused by a build-up of cholesterol in the blood vessels, known as plaque, and causes narrowing and restriction of blood flow to and from the heart and other vital organs, increasing the risk of heart attack and stroke.
Indication of inclisiran
Inclisiran is an LDL-c lowering therapy that, with two maintenance doses a year (following an initial dose and a follow-up dose at 3 months), delivers effective and sustained LDL-c reduction.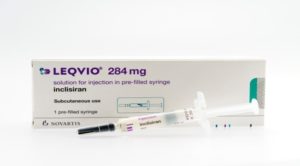 Inclisiran is indicated in adults for secondary prevention with primary hypercholesterolaemia or mixed dyslipidaemia as an adjunct to diet:
In combination with a statin or statin with other lipid lowering therapies, in patients unable to reach LDL-c goals with the maximum tolerated dose or a statin, OR
Alone or in combination with other lipid-lowering therapies in patients who are statin intolerant, or for whom a statin is contraindicated.
Storage of Inclisiran
Inclisiran has a 2-year shelf life
It does not require any special storage conditions, but should not be frozen
The solution should be clear, colourless to pale yellow and essentially free of particulates
If the solution contains visible particulate matter, the solution should not be used.
Professor Julia Newton, Medical Director at the AHSN NENC and lead for the AHSN Network's Lipid Management and FH programme, said:
"This is a really exciting collaboration. We have been supporting clinical teams for the past year to identify those with high cholesterol and opportunities for better patient care."

"New treatments are becoming available that will allow clinicians and patients to choose the best treatment to manage cholesterol levels and this new collaboration allows us to go further quicker, to raise awareness of the risks of high cholesterol and how important it is to manage it effectively. It allows us to work with teams to bring these great new treatments, such as Inclisiran, to the patient more quickly."
Barry Todd, Pharmacist Practitioner at Village Green Surgery in Wallsend and Wallsend PCN Pharmacy Lead, said:
"In the 42 years I've been a primary care Pharmacist, I've never been so excited at the opportunity of breaking down barriers and being able to work collaboratively across all sectors.

"Together we are making a real difference in tackling health care inequalities and driving down cardiovascular morbidity and mortality."
Read more about other treatments available as part of the Lipid Management Pathway here.
Resources
Podcast:
In this podcast, CVD Prevention Lead and Regional Coordinator, Nikki Holdsworth, talks to Barry Todd – a North East Pharmacist Practitioner and Wallsend Pharmacy Lead, and Matthew Hart – a Specialist Clinical Pharmacist with The Newcastle Upon Tyne Hospitals Trust, who are involved in lipid optimisation and management, and have experience of initiating and managing patients on one Inclisiran.
Videos:
Professor Ahmet Fuat – introducing inclisiran into the Lipid Management Pathway
In this video for GPs and healthcare professionals, GP, Professor Ahmet Fuat, describes using the novel therapy Inclisiran in the lipid management pathway for the first patients in the North East and North Cumbria.
Dr Stewart Pattman, Inclisiran – Optimising Lipid Management
In this video, Dr Stewart Pattman, Lipid Clinic Clinical Lead for Northumbria Healthcare NHS Foundation Trust, shares his knowledge of the novel therapy Inclisiran as an option for patients on the Lipid Management Pathway.
Dr Phil Jennings – Inclisiran explained: an innovative new treatment for people at risk of cardiovascular disease
In this video for GPs and healthcare professionals, Dr Phil Jennings, Chief Officer of the Innovation Agency and AHSN Network Lead for the Rapid Uptake Products, explains to Caroline Kenyon how the treatment works.
Other Resources:
Northern England Evaluation and Lipid Intensification (NEELI) Guidelines
Guidelines include information across the whole of the lipid pathway including FH.
Resources for primary care
Further inclisiran resources can be found here.
For more information about Inclisiran and the Lipid Management Pathway contact Nikki Holdsworth.